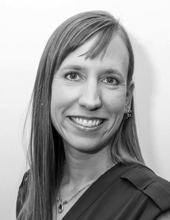 Jill Gower
CVAD Career Coach
Office of the Dean, Student Success Center
Phone TBA
Jill.Gower@unt.edu | Navigate link for appointments
Art Building, Room 220D
LinkedIn | JillBakerGower.com | CV
About
Jill Gower started at UNT in the Fall of 2022 as a career coach for the College of Visual Arts and Design. Gower holds a bachelor's degree in art education from the University of Wisconsin – Madison, and a Master of Fine Arts degree in Metals from Arizona State University, Tempe, Ariz. She is originally from the Chicago area.
Gower is an active artist, metalsmith, and educator. Before her role with CVAD, she taught metals and jewelry courses and workshops at universities, craft schools, and colleges across the U.S. She was an associate professor of art with tenure at Rowan University in Glassboro, N.J., where she headed the metals program from 2007 to 2018. Gower has exhibited her one-of-a-kind studio jewelry and sculpture in numerous exhibitions nationwide. In 2019, Gower had a solo exhibition at the Metal Museum in Memphis, TN. Her work has been published in Metalsmith magazine, the book CAST, Little Dreams in Glass and Metal: Enameling in America 1920 to the Present, and is in the permanent collections of The Philadelphia Museum of Art, Philadelphia, Penn., the Yale University Art Gallery, New Haven, Conn., the Metal Museum, Memphis, Tenn., The Enamel Arts Foundation, Los Angeles, and Arrowmont School of Arts and Crafts, Gatlinburg, Tenn.
Gower is a former resident artist of Arrowmont School of Arts and Crafts in Gatlinburg. She served on the Board of Directors for the Society of North American Goldsmiths, SNAG, from 2016 to 2019. In 2015, Gower received the New Jersey State Council on the Arts Individual Artist Fellowship.