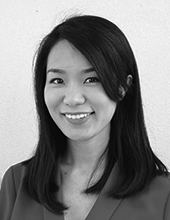 Chanjuan Chen
Graduate Coordinator, Fashion Design
Associate Professor
Department of Design
940-565-3621
Chanjuan.Chen@unt.edu
Art Building, Room 247
Portfolio Website
Chanjuan Chen holds a Bachelor of Engineering degree in Fashion Design from the Xiamen University of Technology, Xiamen, China, and a Master of Fine Arts in Design, with a concentration in Fashion Design from the University of North Texas, Denton, Texas. In addition to teaching, she has industry experience working as a fashion designer, technical designer, and graphic designer in China and the United States. Chen joined the CVAD faculty after teaching as an assistant professor in the School of Fashion Design and Merchandising at Kent State University, Kent, Ohio.
Chen's research goal has been to further apparel-design practices by actualizing concrete ideas to reduce production waste and increase product longevity through participatory engagement and sustainable design concepts, including transformable and upcycled designs. Her designs have been recognized by numerous academic and professional organizations; she has received the Educators for Socially Responsible Apparel Practices Award for Sustainable Design at both the International Textile and Apparel Association 2016 and 2017 annual conferences.
Chen's goal is to attempt to design unique clothes that are functional and sustainable as well as aesthetically pleasing with the hope that they will contribute to improving the human condition.