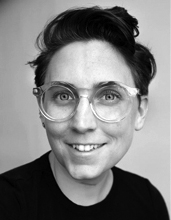 Liss LaFleur
Associate Professor, Studio Art: New Media Art
Department of Studio Art
2022 UNT IAA Fellow
Alum: 2011, BA, Art History, BFA, Studio Art: Photography
940-565-4530
Liss.LaFleur@unt.edu
Art Building, Room 345P
Areas of Expertise: New media art, video art, performance art, animation, digital fabrication, and queer theory.
Liss LaFleur (she/her/hers) received her M.F.A. as a Fellow in Media Art from Emerson College (2014), Boston, Mass., and joined the College of Visual Arts and Design in the fall of 2015 at the University of North Texas, Denton, Texas. From 2012–2013 she was a media researcher on the Ford Foundation Advancing LGBT Rights Initiative, "Out for Change: Transmedia Organizing Network" at the MIT Media Lab, Cambridge, Mass. She is currently an associate professor and program coordinator of New Media Art, and an affiliated faculty member with the LGBTQ Studies Program and Women's and Gender Studies Program at UNT.

As an interdisciplinary artist, LaFleur's practice spans moving image, performance, queer and feminist politics, and installation art. Her work broadly explores relationships between gender, technology, and identity. She is a 2020-22 John F. Kennedy Center Citizen Artist Fellow. In 2018, she was awarded an Immersive Scholar grant by the Andrew W. Mellon Foundation, New York City, to research the #MeToo movement in the United States and translate public data into a series of immersive videos using 3D animation and conceptual art strategies. In 2019, all of the data associated with this research was archived in the #MeToo Digital Media Collection at the Schlesinger Library on the History of Women in America at Harvard's Radcliffe Institute for Advanced Study in Cambridge, Mass.

LaFleur has exhibited, lectured, and held screenings internationally, including at the Tate Modern, London; Cannes Court Métrage, Paris; Phoebe A. Hearst Museum of Anthropology, Berkeley, Calif.; the Contemporary Art Museum, Houston; PBS/ POV Digital; the Reykjavik Art Museum, Iceland; South by Southwest, Austin, Texas; Artespacio Galeria de Arte, Santiago, Chile; the Museum of Glass, Tacoma, Wash.; Sister Gallery, Bowden, South Australia; and the Czong Institute for Contemporary Art, Gimpo, South Korea. She was nominated for a Webby Award (2019) and has been a finalist for the Foundwork Art Prize (2019), Art Prize (2017), the Aesthetica Art Prize (2018), the Lumen Prize (2016), and the Edie Windsor Coding Fellowship (2019). She is a recipient of the College Art Association Professional Development Fellowship (2014), and a pupil of documentary photographer Mary Ellen Mark. She is represented by Galleri Urbane Marfa + Dallas.

As an instructor, Liss brings a passion and enthusiasm for collaborative social engagement and blends contemporary critical theory with professional practice to create an experiential learning environment. Her courses are critical and multimodal, allowing students to connect their art practice to individual research interests through cross-disciplinary engagement. She has developed various new courses at UNT, including Performance and Electronic Media, Expanded Cinema, and The Future Feminist Lab. Outside of the classroom, she is an active mentor for both individual students and student organizations.

Liss is inspired by the creative and inclusive community she has found in Texas. When she's not working and researching, she can be found outside chasing sunshine and good coffee. She enjoys life in the Little d (Denton, Texas) with her partner, Britt, and their pup, Delilah.
In the News