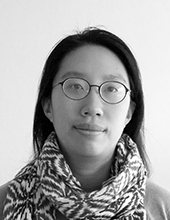 Eliza Au
Assistant Professor, Studio Art: Ceramics
Department of Studio Art
940-565-4746
Eliza.Au@unt.edu
UNT Art Annex, Room 147
Website: Eliza Au
Eliza Au is originally from Vancouver, B.C. in Canada. She received a B.F.A. from the Nova Scotia College of Art and Design and an M.F.A. from the New York State College of Ceramics at Alfred University, Alfred, N.Y. Artist residencies she has attended include Greenwich House Pottery, New York City, The Museum of Contemporary Craft, Portland, Ore., and the Corning Museum of Glass, Corning, N.Y.
She has taught in Canada and the United States at various institutions including the Emily Carr University of Art and Design, the Alberta College of Art and Design, The University of Iowa, and most recently with the Alfred-CAFA — Central Academy of Fine Arts Program in Beijing, China. Previously, she has received grants from the Canada Council for the Arts and has exhibited nationally and internationally.
More about Eliza Au
2022 Grant: Arts Abroad grant recipient from the Canada Council for the Arts to attend a residency at the Benyamini Contemporary Ceramics Center in Tel Aviv, Israel in 2023
2020 Award: Winner ClayHouston Award for Texas BIOPC Artist in Mid-Career and Beyond
2020 Award of Excellence: at the Chrysalis Competition held by the James Renwick Alliance
2021 Residency: selected as one of the four recipients of the McKnight Artist Residencies for Ceramic Artists, awarded by the Northern Clay Center in Minneapolis, Minn.