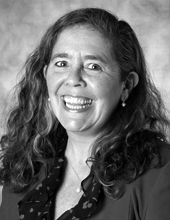 Heidi Strobel
Associate Dean, Academic and Student Affairs
Office of the Dean
Professor, Art History
940-565-4777
Heidi.Strobel@unt.edu
Art Building, Room 101L
About
Heidi Strobel holds a Ph.D. (2002) and M.A. in art history from the University of Illinois Urbana-Champaign and a B.A. in European history from Kalamazoo College, Kalamazoo, Mich. She is a specialist in 18th-century gender and material culture and co-editor of "Materializing Gender in 18th-century Europe" (2016, with Jennifer Germann) and the author of "The Artistic Matronage of Queen Charlotte (1744-1818): How a Queen Promoted Both Art and Female Artists in English Society" (2011).
Strobel gained expertise in textile studies during her research, a key part of her upcoming book on Leicester textile artist Mary Linwood (1755-1845). "The Art of Mary Linwood: Embroidery, Installation, and Entrepreneurship 1787-1845" will be the first book about Linwood and will contain a catalog of her work. The book is scheduled to be published by Bloomsbury in early 2024 as part of the publisher's Material Culture of Art and Design series. Recent grants from the Yale Center for British Art, the Paul Mellon Centre for Studies in British Art, the American Philosophical Society, the Pasold Textile Research Fund Grant, and the University of Evansville have generously supported Strobel's research on Linwood. She is an active member of the American Society for 18th-Century Studies, Historians of 18th-Century Art and Architecture, the Textile Society of America, and the American Alliance of Museums. Visit "Mary Linwood's Balancing Act" on the Art HerStory news blog by Strobel.
At the University of Evansville, Evansville, Ind., Strobel taught art history in the Department of Archaeology and Art History and served as associate dean of the William L. Ridgway College of Arts and Sciences. She also was the curator of the Peters-Margedant House, a Usonian home built by Indiana native William Wesley Peters, chief engineer and apprentice to Frank Lloyd Wright.