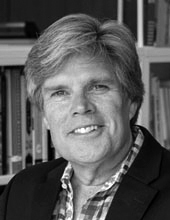 Michael R. Gibson
Coordinator, M.A. in Interaction Design Program
Professor, Communication Design: User-Experience Design
Department of Design
"Dialectic" journal producer and co-managing editor
Michael.Gibson@unt.edu
940-565-3621
Art Building, Room 304
---
About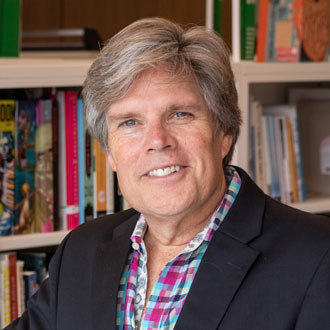 Professor Gibson oversees the planning and facilitation of learning for M.A. candidates in Interaction Design and M.F.A. candidates in Design Research, including supervising sponsored projects, capstone experiences and thesis and practicum projects. He also teaches interaction and user experience design classes, critical writing and critical methods, design research theory and methods, and information design.
As a co-coordinator of sponsored human-centered, interaction design and user-experience design projects, Gibson works with fellow faculty members Professor Keith Owens and assistant professors Cassini Nazir and Omari Souza. These sponsored projects are facilitated on behalf of North Texas-based businesses, government and non-government organizations, local communities and community groups, and educational institutions and their support groups.
More about Professor Gibson
Michael R. Gibson is an ex officio of the National Steering Committee for the Design Educators' Community of the American Institute of Graphic Arts, or AIGA. His scholarly articles on integrating emerging technologies and idea generation approach into design education scenarios have appeared in journals such as "Visible Language," "Information Design Journal," "The International Journal of the Humanities," "Zed: A Journal of Design Thinking," "Design Education in Progress" and several others. He has also widely lectured and facilitated workshops on design writing and thinking since 1994 and operated a visual communication and interaction design consultancy since 1985.
Gibson's experiences as a design educator and researcher have taught him that collaboratively engaging in inclusive, co-participatory design processes can help diverse groups construct knowledge and understandings that help forge and sustain connections between social and cultural perceptions, practices, and behaviors. These ideas have guided his work over the past two decades to affect positive changes in design education from kindergarten through the graduate level, children's healthcare and education, and how people from various walks of life interact with computerized information delivery systems.
Gibson is the producer and co-managing editor of "Dialectic," a scholarly journal of thought leadership, education and practice in visual communication design published on behalf of the American Institute of Graphic Arts Design Educators' Community, AIGA DEC. More information about this scholarly journal can be found on the "Dialectic" website.
He earned a B.F.A. in graphic design at the Kansas City Art Institute, Kansas City, Mo., and holds an M.F.A. in graphic design with a specialization in design research from the University of Michigan, Ann Arbor, Mich.
Dialectic
Jan. 5, 2023: The latest issue of the scholarly journal of the AIGA DEC has been published by the University of Michigan Publishing Services. Volume IV, Issue 1 of this peer-reviewed, open-access publication is available on the "Dialectic" website. The publication is partly co-founded and co-edited by Gibson and his UNT Communication Design faculty colleague Keith Owens. "Dialectic" has a diversely populated, international readership and a strong reputation for publishing work that critically examines intersections between design as an academic and professional discipline and other disciplines, including the social sciences, information technology, human-computer interaction, marketing and business management. In so doing, "Dialectic" is an extension of how design is taught, researched, and critically analyzed within and around the curricula facilitated within CVAD's Department of Design.
Communication Design Highlights
2023
May 9: Bridging the Gap in Diabetes Education on behalf of rural North Texans, sponsored in part by a UNT CVAD Flagship grant.
This project was guided by user experience-centered design research, resulting in the development, implementation, and sustenance of an interactive "digital system of care." It results from the collaborative, team-based efforts of graduate students enrolled in our M.A. in Interaction Design program and undergraduate students in our User-Experience Design program. All of these students have worked and are working under the guidance of Communication Design Professors Michael R. Gibson and Cassini Nazir in partnership with North Texas-based endocrinologist Wasim Haque, M.D.
This endeavor has three goals. The first is to provide rural North Texans living with diabetes with a well-organized set of medically authored and approved resources that will enhance their abilities to manage their daily diabetes care regimens. The second is to help rural North Texans avoid developing the disease. The third is to help rural North Texans diagnosed as pre-diabetic avoid developing Type 2 diabetes.
2022
May 12: Presenting a Digital System of Care: Supporting Children with Mental Health Issues and Their Caregivers
This presentation was made at the International Child Health Technology Conference in Washington, D.C. It articulated the results of an undertaking led by UNT CVAD Communication Design professors Gibson and Owens and a team of graduate students enrolled in the Design Research program. The project described involved professors Gibson and Owens and the graduate students working with personnel with expertise in children's mental health at Cook Children's Health Care System in Denton County, Texas, near the main UNT campus, the Denton Independent School District, and the Denton County Board of Health. This project resulted in a fully functional prototype for a website designed to help children dealing with mental health issues, their parents and caregivers, mental health professionals, and DISD personnel.
2021
Sept. 24: Preparing to Introduce Design Thinking in Middle Schools: Critically Examining Planning Processes Involving School Officials and Design Educators.
This presentation, and the scholarly paper and video that supported it, won "Best Case Study" at the 6th "Learn x Design" conference on design education sponsored by the Design Research Society and hosted by Shangdong University in Shangdong, China.
July 31: Using Professional Practice to Get Tenure (and Promotion) - YouTube
July 29: Strengthening Academic Writing in Design - YouTube
2020
July: Design Decision-Making, Throwing Out Assumptions, and Creating for the User: UNT Professor of Visual Communication Design Michael Gibson explains why, in design, he celebrates failures for their learning potential.
June: UxD students' design work nominated for international "new talent" design award
April: User Experience and Interaction Design Students Design Prototype for a Dallas-Based "Zero-Waste" App
April: CVAD comm design students take 16 awards, 61 percent of prize money and UNT garners 'best school' in this national competition