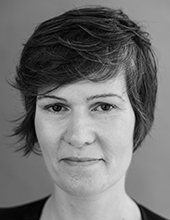 Barbara Trippeer
Assistant Professor, Fashion Design
Department of Design
940-565-3621
Barbara.Trippeer@unt.edu
Art Building, Room 245
Website: Barbara Trippeer
Research
As a design researcher, Trippeer is interested in affecting public policy issues and applying design knowledge to public works projects. Her research explores the intersectionality of inclusive design, sustainability, product lifecycle management, and the application of emerging technology. Some of her current projects include the exploration of STEAD-based interdisciplinary collaboration toward sustainable development for healthy communities.
About
Barbara Cottrell Trippeer is a fashion educator and design researcher focused on exploring innovation and design thinking to create public policy applications related to social development, sustainable technology, and wearable products. She has a B.F.A. in Fashion Design from Parsons Paris, a division of The New School in Paris, and an M.F.A. in Design Research from the University of North Texas, Denton, Texas. She has previously held teaching a teaching position at the Fashion Institute of Technology in New York City in fashion design apparel.
As a fashion industry professional, Trippeer has held senior design positions within major US-based product development retail chains and has worked for several overseas and domestic fashion firms.
As a fashion educator, Trippeer prioritizes inclusive teaching practices to empower her students in conceptual design, drawing, patternmaking, garment construction, and professional presentation skills. Her focus on educational collaboration was recognized by ITAA in 2020 for her work with UNT's College of Music, in 2020 with UNT's Merchandising program along with merchandising Professor Jiyoung Kim, Ph.D., and fashion design colleague Hae Jin Gam, Ph.D., associate professor, and in 2022 for a joint project with CVAD's Interior Design program.
Trippeer uses critical cultural theory to differentiate her work from traditional practice-based design education, along with a two-prong approach grounded in the scholarship of teaching and learning: one-part active research and the other knowledge acquisition and dissemination.