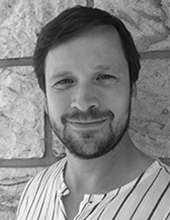 James Thurman
Professor
Department of Studio Art
940-565-4741
James.Thurman@unt.edu
Art Building, Room 309
Areas of Expertise: 3D Design, Metalsmithing and Jewelry, Sculpture, Installation, Tableware, Contemporary Craft
For questions about NTDFG.edu, please get in touch with James.
James Thurman is a professor in the College of Visual Arts and Design at the University of North Texas, where he is the Program Coordinator of Metalsmithing and Jewelry. He received his M.F.A. in Metalsmithing from the Cranbrook Academy of Art, Bloomfield Hills, Minn., and his B.F.A. in Sculpture from Carnegie Mellon University, Pittsburgh, Pa. A two-time Fulbright Specialist Scholar, he worked in Istanbul, Turkey, with Kadir Has University in 2012 and the Glass Furnace Foundation in 2016.
A prolific and highly active studio artist for over 20 years, his work has been included in hundreds of national and international curated and juried exhibitions and numerous solo exhibitions. In addition to the exhibition of his work, James regularly lectures and gives workshops about his work and the unique technical aspects of his studio production, including a laminated composite material he developed, "Thurmanite." Previous venues have included The Glass Furnace, Istanbul, Turkey; Arrowmont School of Arts and Crafts, Gatlinburg, Tenn.; Haystack Mountain School of Crafts, Deer Isle, Maine; Penland School of Crafts, Bakersville, N.C.; Glassell School of Art, Museum of Fine Art, Houston; Pittsburgh Center for the Arts, Pittsburgh, Pa.; and Yuma Art Symposium, Yuma, Ariz.
Digital fabrication continues to evolve as a major aspect of his research and teaching since completing his Machinist Certification in 1995. Beyond utilization in his own studio production, Thurman has incorporated digital fabrication into his teaching for more than 15 years, including a unique online studio-based course in 2012. As coordinator of the North Texas Digital Fabrication Group, he facilitates regular group meetings and an annual symposium.