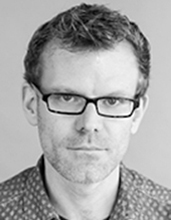 Tyson E. Lewis
Professor, Art Education
Department of Art Education
940-369-7559
Tyson.Lewis@unt.edu
Art Building, Room 220E
Research interests: Educational philosophy, critical theory, phenomenological research methods and aesthetics.
Links to Recent Work
Studio-D Project, Education as Experimentation: Possibilities Beyond Outcome-Based Learning in collaboration with the Jo Ann (Jody) & Dr. Charles O. Onstead Institute for Education in the Visual Arts & Design.
Lewis, T. and Kraehe, A. (2020). Rise: Emergent Strategies for Reclaiming Joy and Agency Against Neofascist and White Supremacist Assaultive Speech. Journal of Cultural Research in Art Education. Volume 37.
Lewis, T. (2020). Walter Benjamin's Anti-Fascist Education: From Riddles to Radio. New York: SUNY Press.
Lewis T. and Valk, S. (2020). Educational realism: Defining Exopedagogy as the Choreography of Swarm Intelligence. Educational Philosophy and Theory.
Lewis, T. (2017). Inoperative Learning: A Radical Rewriting of Educational Potentialities. New York: Routledge.
Interviews