Find your creative career at CVAD — join our community!
On this Page: Undergraduate Program Information
Join a vibrant community of artists, designers and scholars!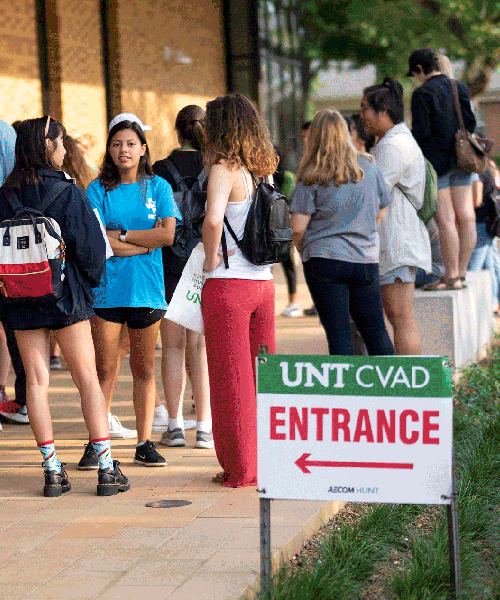 We look forward to getting to know you and want you to know us! The UNT College of Visual Arts and Design is one of the most comprehensive arts and design schools at a public university and is considered one of the best art schools in the nation. No matter which of our 16 undergraduate degrees or 13 graduate degree programs you choose, you'll find the knowledge you need to succeed.
Many faculty members are nationally and internationally acclaimed artists and scholars who impact communities worldwide. In addition, some are active members and leaders of national organizations. They'll guide and encourage you to explore new directions in art so you become a well-rounded art professional.
'Not sure about your major yet? CVAD offers 16 undergraduate degrees. Look over our Programs of Study and let us know your area of interest by tagging us on the UNTCVAD Instagram account!
CVAD + You
We help you find your artistic voice through an innovative curriculum emphasizing sound art fundamentals, creativity and self-expression. Much of the coursework involves creating and producing 2D and 3D artwork, allowing you to get hands-on experience and hone your skills.
CVAD offers you the following.
A legacy of achievement, with notable alumni including a National Medal of Honor honoree, acclaimed designers, illustrators, studio artists and educators.
A wide variety of award-winning programs and concentrations allow you to choose your own path to success.
A reputation for excellence: UNT produces more outstanding artists, designers and art educators than any other institution in Texas.
An innovative education with unique programs, including our Studio Arts degree with a concentration in New Media Art, a Master of Arts degree in Interior Design for Sustainability and many opportunities for cross-disciplinary collaboration.
Take a tour of CVAD or the whole campus!
Art Building Tour
In-person tours of the Art Building are available by scheduling through the UNT Tours website. Please visit our virtual tours page for an online view of various areas of the Art Building.
State of the Art: The 238,000-square-foot building's open concept inspires creativity and encourages people to stay, sit and collaborate. Sky bridges and wide hallways offer plenty of light and space for pop-up exhibitions. Floor-to-ceiling windows bring the outdoors inside and reveal classroom creative work. The expanded and renovated four-story art building provides a world-class space for the college's unique resources and award-winning programs in art education, art history, design and studio arts. Here you will find a sweeping front porch on the building's east side as a gateway to the UNT and Denton communities, an open invitation to come and experience the college's world-class facilities. The UNT CVAD Art Gallery's expansive windows face streets and sidewalks, revealing the works of renowned and emerging artists. At the same time, the central courtyard offers a place to enjoy a wide range of events, from outdoor fashion shows to film screenings and student work installations.
How to sign up
Undergraduates: To request a UNT tour of the campus, see the available times by visiting the UNT Tours website.
Graduate Students: Please contact your department program coordinator for your area of interest. Use the CVAD Graduate Program Advising page to determine whom to contact.
UNT Campus Tour
You can learn more about the university, its 169 buildings and 14 residence halls on a walking campus tour.
How to sign up
To sign up, please visit the UNT Tours website.
Contact Information
We look forward to welcoming you into the College of Visual Arts and Design. Follow a few steps to get here.
Read about CVAD's 16 undergraduate Programs of Study.
Read the degree and curriculum information in your area(s) of interest. You will speak with an advisor during your orientation after you apply.
Apply to UNT and indicate the CVAD program that is your area of interest.
Meet with your recruiter!
If you have questions about a CVAD degree program or applying to UNT, please drop in for a future-student session with Kevin Contreras!
Use this Zoom link: https://unt.zoom.us/j/82559099237.
Future Student Drop-in Sessions
Tuesday: 3–6 p.m. except for Oct. 31, 2023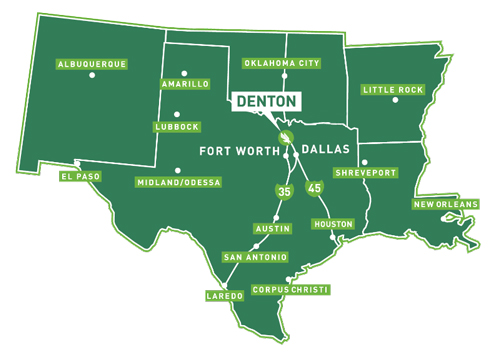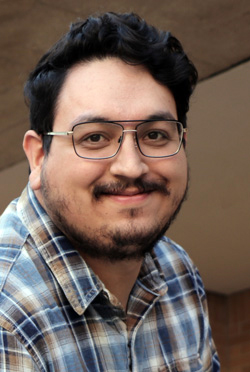 College Recruiter
Office of the Dean
940-565-4206
Kevin.Contreras@unt.edu
Art Building, Room 220C