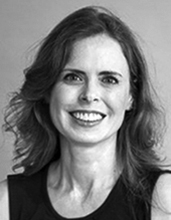 Lari Gibbons
Professor, Studio Art: Printmaking
Department of Studio Art
940-565-4598
Lari.Gibbons@unt.edu
Art Building, Room 204
Website: Lari Gibbons
Instagram: UNTprintmaking
Areas of Expertise: Collaborative printing, intaglio, letterpress, monotype, relief, photopolymers, and post-digital applications such as CNC routing and laser cutting
Lari Gibbons explores new and traditional approaches to printmaking through collaborative, interdisciplinary projects. At the University of North Texas, she teaches printmaking. She was a professional collaborative printer and workshop director for renowned artists such as Susan Goethel-Campbell, Kiki Smith, and Alison Saar. Her work is published in numerous books, including Bill Pick and Beth Grabowski's "Printmaking: A complete guide to Materials and Processes;" Lynne Allen and Phyllis McGibbon's "The Best of Printmaking: An International Collection," and Ashley Rooney and Stephanie Standish's "Contemporary American Printmakers."
Adobe® and the Southern Graphics Council International, Kennesaw, Ga., have recognized Gibbons' work as an educator. She has led workshops at Anderson Ranch Arts Center, Haystack Mountain School of Crafts, and the Amon Carter Museum of Art, among other institutions.
Gibbons has presented at conferences, including Mid America Print Council, Rocky Mountain Printmaking Alliance, International Mokuhanga Association, and Southern Graphics Council International, whose 2019 North Texas Conference she co-organized. She has received residencies at Banff Centre, Anderson Ranch Art Center, and Ucross Foundation. Gibbons served as editor of the Mid-America Print Council Journal from 2010–13 and currently serves on MAPC's Exhibition Committee.
Lari Gibbons received an M.F.A. in Printmaking from the University of Nebraska, Lincoln, Neb., where she studied under Karen Kunc, and a B.A. in Art History from Grinnell College, Grinnell, Iowa. She has taken numerous workshops, including plate lithography at Tamarind Institute, Albuquerque, N.M., under Rodney Hamon — and studied low-toxicity intaglio under Keith Howard and Elizabeth Dove. She has been on faculty at the University of North Texas for over 22 years, directing the Print Research Institute of North Texas, P.R.I.N.T. Press.
Video
Teaser: Engraving Plates with a CNC Router from Lari R. Gibbons on Vimeo.
---
Photos