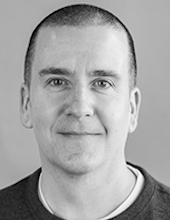 Matthew Bourbon
Professor, Studio Art: Drawing and Painting
Department of Studio Art
940-369-7208
Matthew.Bourbon@unt.edu
Art Building, Room 207
Website: Matthew Bourbon
Areas of Expertise: Painting, Art Criticism
Matthew Bourbon is a painter, art critic, and professor of studio art at the College of Visual Arts and Design. Originally from the San Francisco Bay Area, Bourbon earned separate undergraduate degrees in Studio Art and Art History from the University of California, Davis, Davis, Calif.
He earned his Master of Fine Arts degree from the School of Visual Arts, New York City. Since then, his art has been exhibited nationally and internationally. Recent shows include Wider West at the Oil Tank Culture Park in Seoul, South Korea, C'est de la Peinture! at Bankley Studios and Gallery, Manchester, England, Time, Space, and Process at Bethel University, St. Paul, Minn., and Waiting For Now at the Old Jail Art Center Museum in Albany, Texas.
His work also was shown in conjunction with The Artist's Eye lecture series at the Kimbell Art Museum in Fort Worth, Texas. Bourbon has won numerous awards for his work, including the Otis and Velma Davis Dozier Travel Grant by the Dallas Museum of Art to conduct research in Japan. He also has been selected twice to be included in the Texas Biennial and on numerous occasions been selected for the publication New American Paintings.
Bourbon was named an Institute for the Advancement of the Arts Faculty Fellow 2015/16, and he received the Creative Impact Award from UNT, Fall 2017. Bourbon is an active art critic, contributing to ArtForum, Flash Art, ArtNews, New York Arts Magazine, and Glasstire Online Arts Journal. He also served for several years as the regional editor for the much-loved journal Art Lies. Recent reviews penned for ArtForum include The Nature of Arp at the Nasher Sculpture Center, Jay DeFeo at Galerie Frank Elbaz Dallas, and Stanley Whitney at The Modern Art Museum Fort Worth.
More about Matthew Bourbon
2021 Solo Exhibition: "Hive," Arts Fort Worth, Fort Worth, TX
2019 Solo Exhibition: "Mind Gathering," Kirk Hopper Fine Arts, Dallas, TX
2019 Solo Exhibition: "Waiting for Now," Old Jail Art Center Museum, Albany, TX
2018 Solo Exhibition: "Tribalism Begins at Home: New Paintings from Matthew Bourbon," Rudolph Blume Gallery, Houston, TX
Essays and art criticism: Art Forum Online, Flash Art, ArtNews, New York Arts Magazine, KERA Art and Seek, Dallas Morning News