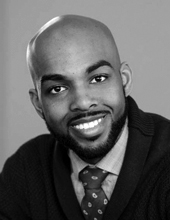 Omari Souza
Assistant Professor, Communication Design: User-Experience Design
Department of Design
940-565-3358
Omari.Souza@unt.edu
Art Building, Room 303
Omari Souza is a communication design program instructor with seven years of teaching experience as an assistant professor in the Communication Design program at Texas State University, San Marcos, Texas. He organized the online State of Black Design Conference in April 2021. He previously organized and hosted an online multi-panel event titled "The State of Black Design" in September 2020, which drew a live audience of more than 2,000 viewers.
Omari is a first-generation American of Jamaican descent, raised in the Bronx, N.Y. He previously worked with companies and institutions such as VIBE magazine, Buffalo News, CBS Radio, and Case Western Reserve University.
He earned a B.F.A. in digital media from the Cleveland Institute of Art, Cleveland, Ohio, and an M.F.A. in design from Kent State University, Kent, Ohio. Omari's research explores the idea of perceptions and how visual narratives influence culture — how we view ourselves and others around us.