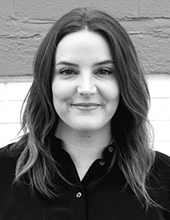 Erica Holeman
Assistant Professor, Communication Design: Graphic Design
Department of Design
940-565-3621
Erica.Holeman@unt.edu
Art Building, Room 345B
Research
Erica Holeman is an educator and award-winning designer, currently teaching undergraduate interaction design and typography courses. Holeman's research centers on empathy and humanity within design and design pedagogy. Through writing, presentations, creative practice and more, her research poses questions about crafting a better design experience for designers, design educators, and design students.
About
Holeman earned an M.F.A. in graphic design from Maryland Institute College of Art, Baltimore, Md., and a B.F.A. in graphic design from Oklahoma State University, Stillwater, Okla. In Maryland, she taught graphic design and branding courses at MICA and the University of Maryland, Baltimore County, while volunteering at portfolio reviews and as a guest critic. Her students have been recognized nationally and internationally in student design competitions, including Graphis New Talent Annuals.
Before becoming a full-time educator, Holeman was a senior designer at Pentagram, the world's largest independent design consultancy. Her diverse professional experience includes working at a non-profit organization, smaller local design agencies, and as a freelance designer.
Holeman's design work has been recognized by the prestigious Type Director's Club and is published in Communication Arts design annuals, one of the world's most exclusive major design competitions. Other recognitions include Graphis, University and College Designers Association, Graphic Design U.S.A., and more. In 2021 Holeman was a Design Incubation Fellow.
In 2020, she organized and hosted the Creative Minds Series, a panel of professional designers discussing mental health issues among practicing artists and designers. She has also spoken at conferences, been published in peer-reviewed journals, and continues researching — and practicing — building better design experiences.