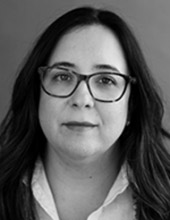 Mónica Salazar
Lecturer, Art History
Department of Art History
940-565-4777
Monica.Salazar@unt.edu
Art Building, Room 208
Mónica Salazar teaches undergraduate courses on the history of photography, theories of contemporary art, postmodernism, history of Latin American art from 1900 to the present, and conceptual art. Her research areas include contemporary Mexican art, conceptual art in Latin America, and death and migration in contemporary art.
Mónica Salazar received a Ph.D. in aesthetic studies with an emphasis on modern and contemporary Latin American art from the University of Texas at Dallas, Richardson, Texas, in 2016. Her dissertation "Death And The Invisible Hand: Contemporary Mexican Art 1988-Present" won the School of Arts and Humanities' best dissertation award for that academic year. She earned a Master's degree in Liberal Arts with a concentration in Fine Arts from Southern Methodist University, Dallas, in 2009 and a Bachelor's degree in Architecture from Instituto Tecnológico y de Estudios Superiores de Monterrey, Monterrey, Nuevo León, Mexico, in 2000. Before joining UNT in 2017 she worked as an architect for nine years and while completing her dissertation, she taught courses on the History of Architecture and Interior Design at the School of Architecture at the University of Texas at Arlington, Arlington, Texas.
Her academic work focuses on contemporary Mexican art and its relationship to the country's adoption of neoliberalism as its economic model in the late 1980s. It engages with issues of spatiality, placelessness, identity, migration, as well as visual representations of death and violence in contemporary Mexican art. Her participation in the 12th Mercosul Biennial in April 2020 in Porto Alegre, Brazil, explores the radical nature of the Mexican artistic collective MarcelayGina (1997-2010) in relation to the concurrent structural changes of the political economy of the country. She is currently working on "Narcoaesthetics: Contemporary Mexican Art and The Crisis of Place," a chapter in the edited volume Visual Ecologies of Place-Making (Bloomsbury Academic). Her article "Reimagining the Borderland: Symbolic Resistance in Margarita Cabrera's Soft Sculptures" to be published as part of a volume dedicated to contemporary Latin American textile art in the Latin American and Latinx Visual Culture journal is currently under review.
Salazar has presented her research in national and international conferences, such as the Conference of the International Association for the Study of Environment, Space and Place, the Latin American Studies Association, SECAC and the College Art Association.