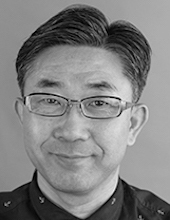 Phillip Park
Coordinator, Graduate Program — Interior Design
Associate Professor, Interior Design
Department of Design
940-565-3621
Phillip.Park@unt.edu
Art Building, Room 256C
Areas of Expertise: Healing environments for pediatric patients, evidence-based design in healthcare environments
Jin Gyu "Phillip" Park joined the College of Visual Arts & Design faculty in 2007. He received his Ph.D. and Master of Architecture degrees from the College of Architecture at Texas A&M University, College Station, Texas.
His academic focus is on evidence-based design, and his research interest relies on the relationship between built environments and human health and performance. His current research focuses on the value of color as a component in a healing environment for a pediatric-patient-room design. His teaching involves evidence-based design and research, technology in environmental design, and space planning for commercial environments.
Park previously worked for eight years as an architectural designer. He is a professional member of the Interior Design Educators Council, the Korea Institute of Healthcare Architecture, the Korean Institute of Architects, and a regular Environmental Design Research Association member.