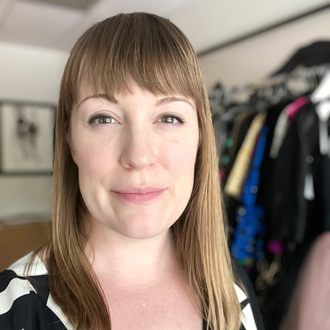 Annette Becker
Curator and Director
UNT CVAD Texas Fashion Collection
Alum: 2015, M.A., Art History with a minor in Art Education
Graduate Certificate in Art Museum Education
940-565-2280
Annette.Becker@unt.edu
405 S. Welch St., WSCI, Room 103
Denton, TX 76201
Areas of Expertise: 19th and 20th-century fashion and material culture, museology
Annette Becker joined the TFC staff in 2016. As director, Becker focuses on external-facing and strategic initiatives, creating connections between the TFC's holdings and its many stakeholders.
Reflecting the TFC's context within the UNT College of Visual Arts and Design, Becker creates educational programming focused on learning with TFC artifacts. Researchers from all backgrounds are welcome at the TFC, and Becker facilitates one-on-one study appointments, small group conversations, and larger lectures for learners from a variety of disciplines — art history, art education, fashion design, communication studies, history, world languages and culture, to name a few. Each program is customized to the learners' interests, so Becker's work as an educator is multidisciplinary and expansive — but is always grounded in the TFC's holdings.
To make the collection accessible to a more general public, Becker curates exhibitions on view in other cultural institutions' galleries and display spaces. These projects represent how dress relates to culture, history and design. And, speaking to their public audience, the exhibitions connect a popular understanding of the past with the collection's historical documentation. Selected projects include: "Delight: Selections from the TFC" in the UNT CVAD Gallery in 2022; "Little Black Dress" at the Tyler Museum of Art in 2021, Tyler, Texas; "Fashion Forward" at the Bullock Texas State History Museum in 2020, Austin, Texas; "West Dressed: Fashions Inspired by the American Frontier" at NorthPark Center in 2019, Dallas; "On Bodies" at the Goss-Michael Foundation in 2018, Dallas; and "Sportswear to Athleisure: The Creation of Comfortable Clothing" at UNT ArtSpace in 2017. Additionally, Becker facilitates loans of TFC artifacts to museums and cultural institutions around the country, expanding the reach of the TFC's world-class collection.
These initiatives are all possible through the generosity of supporters and collaborators, and as director, Becker facilitates many of those relationships. She works with individual donors who gift artifacts and offer financial support to the TFC, its major philanthropies and granting agencies who support large-scale projects.
Becker's work at the TFC is informed by her academic training and professional experiences in cultural institutions throughout the U.S. As an undergraduate, Becker studied Art History and English at the University of Kansas, Lawrence, Kan., where she also secured her first museum position, serving as an undergraduate assistant at the on-campus Spencer Museum of Art. She then engaged in professional development at Historic Deerfield, Deerfield, Mass., Kentucky Shakespeare and the Speed Art Museum, Louisville, Ken. Recognizing the importance of education in professional advancement, Becker earned a master's degree in Art History and a Graduate Certificate in Art Museum Education at UNT in 2015. As a graduate student, Becker volunteered and worked at the TFC, gaining transformative experience with the collection and its possibilities. Since returning to UNT to serve as the TFC's director, Becker has also continued her education; she is currently a doctoral candidate in History, where her dissertation focuses on the history of capitalism, cultural history, and the American fashion industry.
For more on Becker's object-based research at the TFC, see the University of Wisconsin–Milwaukee's Center for Design and Material Culture Conversation Series, Feb. 10, 2021.
For more on Becker's educational programming and outreach, see the Costume Society of American Conversation on Dress video, April 2023.
"Delight: Selections from the Texas Fashion Collection," Jan. 25–May 21, 2022, CVAD Gallery, UNT Art Building
GQ magazine, May 7, 2020: Texas Fashion Collection "...is now one of the most significant fashion collections in the United States." Read the article.