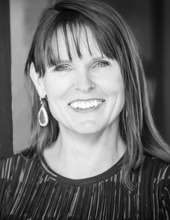 Tracey Filbeck
Lecturer, Interior Design
Department of Design
940-565-3621
Art Building, Room 262B
Before becoming a full-time educator, Tracey Filbeck was an adjunct interior design teacher at various times over the past four years at Dallas College, Collin College and UNT. As a commercial designer, she has also practiced architecture and interior design for 26 years. Over the past 14 years, her primary focus was practicing design and managing Studio F2, a full-service architecture and interior design firm in Dallas. Her diverse design experience includes various commercial projects, primarily focusing on senior living, corporate, and religious design.

Filbeck provides an integrated and broad approach to the design of projects that she also brings into the classroom. Through a holistic approach to design and teaching, she hopes to cultivate introspective and critical thinkers as our future designers. She shows students how to incorporate evidence-based design practices through her research and practice in memory care design. For the past 20-plus years, she has primarily focused on having a deeper understanding of cognitive impairments such as Alzheimer's and dementia to use innovative design concepts that promote supportive environments. She hopes to inspire students to think about how design can catalyze healthy living and working spaces.

Filbeck earned a Masters in architecture from The University of Texas at Arlington, Arlington, Texas, and a B.A. in interior design from Baylor University in Waco, Texas.