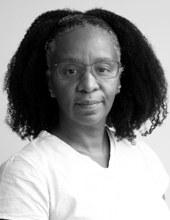 Letitia Huckaby
Visiting Assistant Professor
Department of Studio Art
940-565-3462
Letitia.Huckaby@unt.edu
Art Building, Room 225
Website: Huckaby Studios
Huckaby has exhibited as an emerging artist at Phillips New York, the Tyler Museum of Art, The Studio School of Harlem, Renaissance Fine Art in Harlem curated by Deborah Willis, Ph.D., The McKenna Museum in New Orleans, La., the Camden Palace Hotel in Cork City, Ireland, and the Texas Biennial at Blue Star Contemporary Art Museum.
Her work is included in several prestigious collections; the Library of Congress, the McNay Art Museum, the Art Museum of Southeast Texas, the Brandywine Workshop in Philadelphia, and the Samella Lewis Contemporary Art Collection at Scripps College in Claremont, Calif. Huckaby was a featured artist in MAP2020: The Further We Roll, The More We Gain at the Amon Carter Museum and State of the Art 2020 at Crystal Bridges Museum. She was was a Fall 2020 Art Pace Artist in Residence and is represented by the Talley Dunn Gallery in Dallas.
Huckaby is the co-founder of Kinfolk House. This collaborative project space inhabits a 100-year-old historic home, where community and art converge in the predominantly Black and Latina/e/o neighborhood of Polytechnic in Fort Worth, Texas. She is a 2022 Texas Artist of the Year. She is represented by the Talley Dunn Gallery in Dallas.
In the News
2023
March 13: Ebony magazine: Three Artists From "Emancipation: The Unfinished Project of Liberation" Share their Work
2022
Dec. 15: Smithsonian's 'Kinship' ponders the meaning of personal connection
Oct. 3: A Conversation with Kendyll Gross and Letitia Huckaby
Sept. 16: On View: Letitia Huckaby's Bitter Waters Sweet, Texas Artist of the Year 2022
March 31: Art League Houston Annual Awards: Letitia Huckaby Texas Artist of the Year 2022
Feb. 15: D Magazine for the opening of Kinfolk House: Home Is Where the Art Is
2020
June 26: Glasstire, Texas Visual Art: Artists Letitia and Sedrick Huckaby Declare "END RACISM NOW" On Fort Worth's Main Street
April 3: Glasstire, Texas Visual Art: Five-Minute Tours: Letitia Huckaby at Foto Relevance, Houston