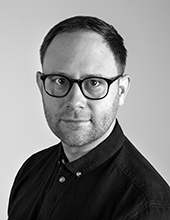 Christopher Meerdo
Assistant Professor, Studio Art: New Media Art and Photography
Department of Studio Art
940-565-4872
Christopher.Meerdo@unt.edu
CVAD Art Building, Room 345H
Christopher Meerdo is an artist who grew up in the Upper Peninsula of Michigan and Šiauliai, Lithuania. Meerdo received his M.F.A. in Photography from the University of Illinois at Chicago and taught at the School of the Art Institute of Chicago from 2012-2019.
Recent exhibitions include Exgirlfriend Gallery, Berlin; Museum of Contemporary Photography, Chicago; The National Gallery of Kosovo, Pristina; Atlanta Contemporary, Atlanta; 47 Canal, NY, Synthesis Gallery, Berlin; and The Mattress Factory Museum of Contemporary Art, Pittsburgh. His work has been screened at Nightingale Cinema, Chicago, Flat Earth Film Festival, Seyðisfjörður, Iceland, nodoCARACAS, Caracas, Venezuela, and DIS.art. He was an artist in residence at SIM Reykjavik and the Skowhegan School of Painting and Sculpture. Meerdo was most recently a fellow at the Jan van Eyck Academie, Netherlands and will be attending Cité Internationale des Arts in Paris later this year. His forthcoming exhibition at The Renaissance Society will open in September 2022. Meerdo is represented by DOCUMENT Gallery, Chicago.
---
Meerdo has been named a winner of a 2022 Pollock-Krasner Foundation Grant in recognition of his computational sculptural work investigating hidden data systems within the context of surveillance capitalism.
The award, honoring the legacies of Jackson Pollock and Lee Krasner, was established in 1985 to provide financial resources to individual visual artists internationally. Through the generosity of the Pollock-Krasner Foundation, this significant award is designated to support the research and production of new artworks for several upcoming studio projects and exhibitions.