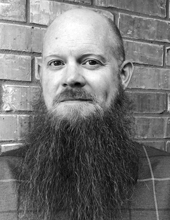 Matt Kernan
Cross-functional Support Analyst
CVAD IT Services
940-565-4522
Matt.Kernan@unt.edu
Art Building, Room 371
Matt Kernan provides general hardware and software help desk support to faculty, staff and students, including in our labs and other spaces within CVAD. He also conducts one-on-one technology support consultations for faculty researchers who require specialized technology.
Prior to joining the CVAD IT Services team, Kernan served as the systems administrator for the Department of Computer Science and Engineering in the UNT College of Engineering for 14 years, the same department where he earned his Bachelor of Arts degree in 2005.

Kernan is a longtime Dentonite and lives with his wife, two children and two cats. In his free time, he enjoys live music, plays video games, and spends time with friends and family.