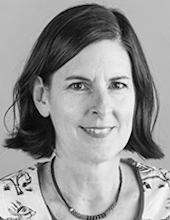 Lisa N. Owen
Chair
Associate Professor, Art History
Department of Art History
940-565-4777
Lisa.Owen@unt.edu
Art Building, Room 310
Lisa Owen teaches undergraduate and graduate courses on the arts of India. She offers both general surveys and more specialized seminars that focus on the roles of art in devotional practices, constructions of identity, articulations of sacred space, and representations of the body.
Areas of Expertise: Artistic and devotional practices in India
Owen received her Ph.D. in Art History from the University of Texas at Austin. While her teaching embraces all aspects of South Asian art, Owen's research focuses on ancient and medieval rock-cut monuments in India. She is particularly interested in how sacred space is articulated in this medium and how carved imagery and space shape devotional practices.
Her interests also include the production of imagery in ancient India, patronage patterns, and identity constructions. Her book project, "Rocks, Caves, and Divinity: Creating Places of Worship in Medieval Southern India," questions the saliency of employing traditional art historical categories such as architecture and sculpture to India's rock-cut monuments that clearly express the power of place through more complex visual systems.
Owen's fieldwork in India has been supported by an American Institute of Indian Studies Senior Short-Term Fellowship, a Fulbright-Nehru Research Scholar Award, and a Howard Foundation Fellowship. She has presented her work at numerous venues, including the Nehru Memorial Museum and Library, the India International Centre, Oxford University, the University of London, Yale University, and the University of Toronto. Her publications include "Carving Devotion in the Jain Caves at Ellora" (Brill, 2012) and essays in "Marg, Artibus Asiae, the International Journal of Jaina Studies," and the "Journal of the International Association of Buddhist Studies."
April 5, 2013: Art history professor awarded Fulbright grant