Studio Art
About Studio Art
The Department of Studio Art offers students an intensive exploration across a breadth of media and within a depth of discipline that allows students to prepare to be an artist, begin a career in the arts, continue their studies in graduate school, or become leaders and educators. Students gain skills and competencies, including team-based learning, technology, communication, aesthetic judgment, interdisciplinary and innovative approaches, critical analysis, and professional development throughout their program of study.
Seven Concentrations of Study
drawing and painting
ceramics
metalsmithing and jewelry
new media arts
photography
A studio art degree can prepare you to become an independent artist or enter fields such as graphic design, commercial art, teaching, or art therapy and more. Many artists work in fine- or commercial-art studios in office buildings, warehouses or lofts. Others work in private studios in their homes. Some artists share studio space, where they also may exhibit their work. We look forward to helping you embrace your talent and design your future.
B.F.A. in Studio Art
Throughout the B.F.A. curriculum, we support students' intellectual and creative growth, fostering a strong studio practice and preparing students for a lifetime of accomplishment and meaningful contribution as culture creators.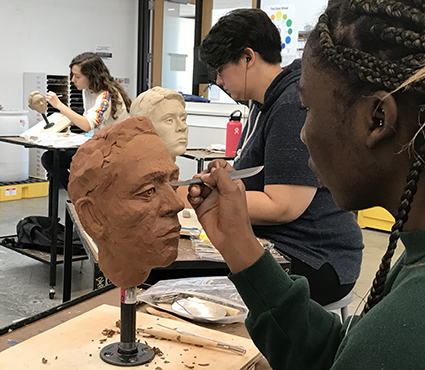 Each studio concentration's curriculum provides students with the development of skills and competencies, including the following.
Team-based learning,
Technology
Communication
Aesthetic judgment
Interdisciplinary and innovative approaches
Critical analysis, and
Professional development throughout their program of study
While in the College of Visual Arts and Design, B.F.A. students participate in arts research across disciplines and engage in the critical practice of the fine artist.
Our faculty are engaged artists and educators recognized nationally and internationally for their intellectual and creative research and work to ensure that students realize their potential while pursuing their passion.
Undergraduate Concentrations Entry Review
Studio Art Graduate Degrees
Current Academic Calendar (Select the current year's "Academic Calendar" from the Quick Links menu)
Schedule of Classes
Pre-Major — How to Become a Studio Art Major
The College of Visual Arts and Design has minimum academic requirements that each student must meet to be classified as a pre-major, in addition to the university admission requirements. For more information about the CVAD curriculum, please visit Curriculum Guides for Undergraduates Degrees and Minors.
M.F.A. in Studio Art
Please refer to the main page for the M.F.A. in Studio Art.
Contact Information
Future undergraduate students: Send an email to CVAD@unt.edu.
Currently enrolled undergraduate students: Contact a CVAD advisor on the CVAD Advising webpage.
Department of Studio Art: 940-369-7671 | studio@unt.edu | Art Building, Room 230 | Department Directory