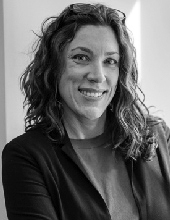 Karen Hutzel
Dean
Professor, Art Education
Office of the Dean
940-565-4001
Art Building, Room 101M
The UNT College of Visual Arts and Design welcomed a new dean on July 1, 2021. As dean, Hutzel oversees operations of the college, including four departments, the programs in Foundations and Interdisciplinary Art and Design Studies, the Onstead Institute, and the Texas Fashion Collection.
About Dean Hutzel
Karen Hutzel, Ph.D., is a nationally and internationally recognized educator, author, scholar and leader. In her previous role, she served as the chair for the Departments of Art and Arts Administration, Education and Policy at The Ohio State University in Columbus, Ohio. Known as a community-engaged scholar, Hutzel has successfully applied the principles of participatory action research to her collaborations with community and cultural groups locally and globally.
Dedicated to diversity, equity, and inclusion, Hutzel is a thought leader in the field of arts education. She has led many initiatives to bridge the distinct disciplines of arts education, arts policy, and arts administration to position art educators at the forefront of contemporary thought in these fields.
Hutzel holds a B.F.A. in visual communication design, University of Dayton, an M.A. in art education, University of Cincinnati, and a Ph.D. in art education, Florida State University, Tallahassee, Fla. Hutzel has served as a member of AmeriCorps and an officer of the International Society for Education through Art, InSEA, and embraces service-learning methods in her teaching.
Areas of Expertise
• Art education in cities
• Research and evaluative methodologies, particularly action research
• Asset-based community development
• Service learning and community arts
• Collaborative pedagogies of inquiry and artmaking