Undergraduate Academic Advising, The Milnes Advising Center
Helping you craft your CVAD experience — get advised!
Let's get started! Are you...
About CVAD Advising
Undergraduate Student Advising for Currently-Enrolled Students: In support of student success, academic advising is a collaborative partnership between advisors and students. Academic advisors use a holistic and developmental approach to assist students in defining, clarifying, and achieving academic, personal and career goals.
Academic advisors in CVAD provide the following for currently enrolled undergraduate students.
• Help with course selection
• Help with degree-progress planning
• Degree audits
• Graduation checks
• Referrals to campus resources, such as Financial Aid, Housing, Office of Disability Access, and faculty or departments. These areas are not academic advising, but we are happy to help you get to them! And, be sure to check out the CVAD and Campus Resources web pages.
When should I meet with my advisor?
Advising is available year-round for continuing students — new students are advised in their orientation process. After you complete orientation, you are considered a continuing student.
• It is strongly recommended that all students meet with their academic advisor prior to the beginning of each registration period.
• All CVAD students completing their first two semesters at UNT must meet with an advisor prior to their next registration period in order to obtain an advising code.
• Students already attending UNT and wishing to change their major to a program in CVAD should make an appointment with their soon-to-be CVAD advisor.
Academic Standing: Students needing an advising code due to academic probation or other standings should schedule an appointment with their advisor. This is how you will get your advising code to register for future classes.
How do I schedule an appointment?
Visit Appointment Scheduler, the UNT appointment scheduling system. Remember, advising appointments fill up close to registration times! Plan ahead and know you can usually schedule up to two weeks in advance.
Virtual Drop-in Advising sessions, previously "Walk-in Advising"
These are just for "quick questions" related to Fall 2020 and should be for topics that can be addressed in 15 minutes or fewer.
Good drop-in topics: adding a class, dropping/changing a class, or finding a "back-up option" since you are on a waitlist
Things that are NOT drop-in topics: changing your major or creating a full graduation plan
How to attend: Students must register via Zoom video communications software. You can register in advance for the day and time block or on the day of the meeting, up to two hours after the start time. The easiest way to do this is to sign-in to your UNT Zoom account and enter the meeting ID. It will then take you to the registration page.
Need help with Zoom?
For help, visit the UNT Online Zoom Basics web page.
Days, Times, and Meeting IDs
Thursday, Aug. 27
9-11:30 a.m., Meeting ID: 994 2253 8632
1:30-4 p.m., Meeting ID: 923 3814 8858
Friday, Aug. 28
9-11:30 a.m., Meeting ID: 992 9685 3468
1:30-4 p.m., Meeting ID: 966 8998 4023
Weekly from Sept. 1 - Oct.14, 2020
Tuesdays, 9-11:30 a.m., Meeting ID: 914 9405 3037
Wednesdays, 1:30-4 p.m., Meeting ID: 914 6183 9786

Spring 2021 Registration Begins Oct. 19, 2020. More information about registration drop-ins to come!
Transfer Admissions
A word about transfer admissions — you do not need an associate's degree, a two-year degree, to transfer. You can read more about coming to UNT as a transfer student on the Transfer Admissions website. Incoming transfer students do not have a separate admissions process and no portfolio is required to begin in the College of Visual Arts and Design.
Who is my academic advisor?
CVAD academic advisors are available for all currently-enrolled undergraduate students, including those interested in changing majors or declaring a minor. Find the first letter of your last name next to the advisor's name to determine which advisor is yours. If you choose a different advisor, your appointment may be rescheduled.
A–B: Laura Hernandez
C–F: Clarissa Hutkowski
G–K: Kevin Contreras
L–O: Jesse McElroy
P–S: Heather Close
T–Z: Jennifer Grund
Advising Office Contact Information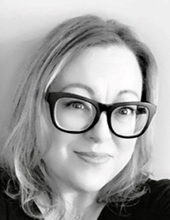 Erin Donahoe-Rankin
Director, Undergraduate Academic Advising
940-565-2216
Erin.Donahoe-Rankin@unt.edu
Art Building, Room 232
Advising procedures vary by college. Contact the CVAD Advising Office for CVAD-specific information. For additional information, visit the UNT Advising website.