Undergraduate Academic Advising, The Milnes Advising Center
Helping you craft your CVAD experience — get advised!
Let's get started! Are you...
About CVAD Advising
Undergraduate Student Advising for Currently-Enrolled Students: In support of student success, academic advising is a collaborative partnership between advisors and students. Academic advisors use a holistic and developmental approach to help students define, clarify, and achieve academic, personal, and career goals.
Academic advisors in CVAD provide the following for currently enrolled undergraduate students.
• Help with course selection
• Help with degree-progress planning
• Degree audits
• Graduation checks
• Referrals to campus resources, such as Financial Aid, Housing, Office of Disability Access, and faculty or departments. These areas are not academic advising, but we are happy to help you get to them! And, be sure to check out the CVAD and Campus Resources web pages.
When should I meet with my advisor?
That depends on whether you are a new or continuing student.
New Student — an incoming freshman or transfer student who has not yet attended UNT Orientation
New students are advised only during their orientation session. Prior to attending their UNT Orientation appointment, new students (freshmen or transfer students) do not schedule/request advising appointments. New students will have special sessions during their orientation.
Transfer Admissions
A word about transfer admissions — you do not need an associate's degree, a two-year degree, to transfer. You can read more about coming to UNT as a transfer student on the Transfer Admissions website. Incoming transfer students do not have a separate admissions process and no portfolio is required/accepted to begin in the College of Visual Arts and Design.
Continuing Student — a student who has completed UNT Orientation
Advising is available year-round for continuing students. After you complete orientation, you are considered a continuing student.
• It is strongly recommended that all continuing students meet with their academic advisor before the beginning of each registration period.
• All CVAD students completing their first two semesters at UNT must meet with an advisor before their next registration period to obtain an advising code.
• Students already attending UNT and wishing to change their major to a program in CVAD should make an appointment with their soon-to-be CVAD advisor.
Academic Standing: Students needing an advising code due to academic probation or other standings should schedule an appointment with their advisor. This is how you will get your advising code to register for future classes.
How do I schedule an appointment?
Visit Appointment Scheduler, the UNT appointment scheduling system. Remember, advising appointments fill up close to registration times! Plan ahead and know you can usually schedule up to two weeks in advance.
Drop-in advising only is offered every day during the first week of classes for each long semester — fall and spring. Future appointments are available after the first week of classes. Regular weekly drop-in times are also available after the first week of each long semester.
Virtual Drop-in Advising sessions, previously "Walk-in Advising"
These are just for "quick questions" and for topics that can be addressed in 15 minutes or fewer.
Good drop-in topics: adding a class, dropping/changing a class, or finding a "back-up option" since you are on a waitlist
Things that are NOT drop-in topics: changing your major or creating a full graduation plan
Need help with Zoom?
For help, visit the UNT Online Zoom Basics web page.
Virtual Drop-in Advising Days, Times, and Meeting IDs
Weekly for All Current/Continuing Students • Ends Dec. 8 for the fall semester
Tuesday morning drop-in hours: 9–11:30 a.m. | Zoom Meeting ID: 914 9405 3037
Wednesday afternoon drop-in hours: 1:30–4 p.m. | Zoom Meeting ID: 914 6183 9786
No drop-in advising will be available during the week of Nov. 22-26 or on Nov. 30.
Spring 2022 start of Semester Drop-in Advising
Tuesday–Friday, Jan. 18–21, 9–11:30 a.m. and 1:30–4 p.m.
Weekly drop-ins for the spring semester begin the week of Jan. 24-28 (same days and times as listed above)
For more on the upcoming Spring 2022 semester, visit the UNT Office of the Registrar's web page: UNT Spring 2022 Registration Guide.
Who is my academic advisor?
CVAD academic advisors are available for all currently enrolled undergraduate students, including those interested in changing majors or declaring a minor. Find the first letter of your last name next to the advisor's name to determine which advisor is yours. If you choose a different advisor, your appointment may be rescheduled.
A–B: Laura Hernandez
C–F: Clarissa Hutkowski
G–K: Kevin Contreras
L–O: Vacant; see note.*
P–S: Heather Close
T–Z: Jennifer Grund
*Don't panic! Students with last names L-O can still attend drop-in advising sessions and schedule appointments with Jennifer Grund or Laura Hernandez. Email the advising office if you have additional questions.
Advising Office Contact Information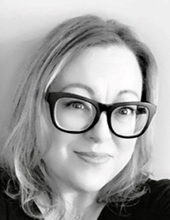 Erin Donahoe-Rankin
Director, Undergraduate Academic Advising
940-565-2216
Erin.Donahoe-Rankin@unt.edu
Art Building, Room 232
Advising procedures vary by college. Contact the CVAD Advising Office for CVAD-specific information. For additional information, visit the UNT Advising website.