Fashion Design, Undergraduate
About Fashion Design
Do you have a passion for fashion? Are you creative and full of new ideas? Do you have an eye for color, style and shape? Perhaps you should pursue a degree in Fashion Design at the University of North Texas. The UNT Fashion Design undergraduate program is fifth among public schools in the U.S. and 64th in the world among public and private schools, according to CEOWORLD magazine, March 2022.
Through a rigorous curriculum, you'll discover the skills needed to conceptualize, present and develop finished garments from your original designs. We also provide a thorough understanding of the industry from historical and present-day perspectives.
B.F.A. in Fashion Design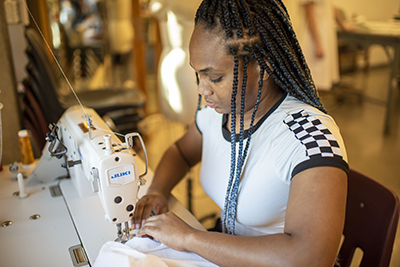 The objective of the Fashion Design undergraduate program at UNT is to give the student the professional skills to take a fashion design idea from sketch to finished garment and an education in design development through an emphasis on art research, fashion history and trend analysis.
The skills taught in the program include the following.
Flat patternmaking
Draping
Fashion drawing
Industrial sewing
Computer-aided design
The program's success is reflected in the accomplishments of our students and alumni. Many make early impressions on future employers by competing at national and international events such as the Fashion Group International's Career Day, Dallas, and Project Runway (Alumna Shirin Askari was featured in the show's sixth season).
Students learn from faculty members who have experience as fashion designers, jurors of exhibitions and active members of professional organizations. You'll also have access to the Texas Fashion Collection, which contains nearly 20,000 garments and accessories from the 19th and 20th centuries. Annette Becker, TFC director and faculty member, is a nationally recognized expert on fashion design and history.
Our alumni are employed in design positions with prestigious companies such as the following.
Dillard's
Calvin Klein
Fossil
Haggar Clothing Co.
Nicole Miller
Fashion houses in Dallas and Fort Worth regularly seek interns from our program, allowing students to receive hands-on experience. Students also have recently interned with apparel companies in New York, Los Angeles, Chicago and London.
Why choose UNT's Fashion Design Program?
The only university in the region that places fashion design in the art department—the College of Visual Arts and Design
The only university in the region that offers both B.F.A. and M.F.A. degrees in fashion design
A program of study that focuses on creative fashion based on design principles
Continual emphasis on skill-building and preparing students for a career in the fashion design industry
An education that encourages students to create designs that are both innovative and current, while being marketable and suitable for manufacturing
Courses taught by faculty with industry experience and whose designs have received national and international acclaim
Access to the Texas Fashion Collection, a museum-quality collection of nearly 20,000 articles of historic clothing and accessories.
Fashion Design Pre-major
All students admitted into UNT who wish to major in an art discipline will be designated as a pre-major in their chosen discipline until they complete the requirements to be accepted as a major.
Students who are classified as Fashion Design pre-majors must meet specific criteria before their admission to the Fashion Design major. Please refer to the Academic Advising web page for suggested curriculum guides.
Intro to Fashion Design, an overview of the industry and the career paths within
Six Fashion Design core classes that teach design, patternmaking, flat and draped methods, and fitting
Industrial Sewing
Fashion Drawing
Fashion History to 1865 and 20th Century Fashion
Computers in Fashion
Professional Practices taken the last semester prepares the student for the job market, with portfolio preparation, job search and interview techniques
Contact