Design: Interaction Design, IxD, M.A.
Developing leaders, driving innovation and discovering the future.
This is IxD.
Visual Descriptions (.docx file) of the M.A in IxD video
About the M.A. in IxD Program
The Master of Arts degree in Design has a concentration in Interaction Design, IxD. Offered through UNT's College of Visual Arts and Design, the M.A. in IxD program is the only one in the North Texas region. With this degree, you can launch and sustain a career in one of the emerging new professional disciplines in one of North America's Top 20 most lucrative job markets. Design thinking and human- and humanity-centered design are at the heart of this graduate program that has grown since its inception in 2017 into one of the most effective of its type in the U.S. Students can complete a master's in under 16 months, receive a minor, or take individual courses to augment a graduate degree in a related field.
Whether you want to pivot your career, mature your organization, or define a product idea, the M.A. in IxD program can help you discover and achieve your future. The program immerses you in learning experiences informed by research-based design approaches, emphasizing the design of interactive products, services and socially innovative experiences. Either full- or part-time students may take courses.
The curriculum offers the following.
Flexible evening courses
Multidisciplinary classroom experiences
Interaction with industry experts
Real-world, hands-on projects
The demand for human- and humanity-centered design leaders and thinkers has grown exponentially in the past decade as companies and organizations are challenged to positively transform their businesses, products and services. Now more than ever, effectively and consistently meeting the needs of diverse users dictates market success and, as importantly, cultural approval. Today, more than ever, cross-disciplinary collaborations driven by shared approaches to design research, thinking and processes are the foundation of innovation and success.
For those seeking to travel on this future wave, the M.A. in Design with a concentration in Interaction Design is the launch pad. This degree is designed to help individuals and organizations gain the skills, methods, and experiences needed to define meaningful, effective and successful human- and humanity-centered products, services and systems.
---
What to Expect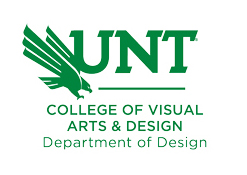 Earning this degree will help you gain the skills, methods, and experiences to define meaningful and successful human-centered products. Everything from mobile devices to large-scale computing networks must often be reimagined and redesigned to improve performance, engagement and usability.
The cross-disciplinary curriculum challenges you to leverage connections between design, the social sciences, marketing and logistics, and the computing sciences.
A minimum of three three-semester-credit-hour courses should be taken in UNT disciplines outside the design department. Electives may include but are not limited to anthropology, computer science, digital retailing and journalism, information technology and decision science, marketing and logistics and technical communications.
Guided Pathway
Learn how you can complete your graduate degree.
Guided Pathway for M.A. in Design, with a concentration in Interaction Design.
Fall Semester
ADES 5410 Foundations and Frameworks of Interaction
Design
ADES 5420 Human-Centered IXD1
ADES 5450 Data and Information Visualization and Design
Spring Semester
ADES 5430 Interaction Design MakerLab 01
ADES 5440 Human-Centered IXD 2
*MKTG 5510 Processes & Methodology for Innovation
Summer Semester
*ART 5450 Professional Internship

Fall Semester
ADES 5460 Interaction Design: Inception-to-Pitch Capstone Project
ANTH 5110 Design Anthropology OR ADES 5520 Methods Employed by Design Researchers
*ART 5450 cannot be repeated. These are elective courses to complement the major. Alternatives can be selected in consultation with a graduate advisor. NOTE: This is not an official degree plan. Check with the M.A. in IxD program advisor, Michael Gibson; degree plans may change in later catalogs.
More Program Information
The Texas Higher Education Coordinating Board marketable skills initiative is part of the state's plan to be among the highest-achieving states in the country. The state's 60x30TX plan is a roadmap to help Texas reach that goal through higher education.
M.A. in Design Marketable Skills
Understand evidence-based design research
Teamwork
Oral and written communication
Application of technical knowledge
Use a design-thinking approach
The Texas Higher Education Coordinating Board marketable skills initiative is part of the state's 60 x 30 TX plan. For more information on this, read about the THECB skills.
More information
Taking courses in this new master's degree program will place you in the heart of one of America's most thriving IxD and UxD job markets. The Plano-Frisco-Dallas area is among North America's top 15 most lucrative markets for people with IxD- and UxD-based knowledge and job skills.
Contact Information
Michael R. Gibson
Professor and Graduate Program Coordinator, Art Building, Room 304
Michael.Gibson@unt.edu