Communication Design, Undergraduate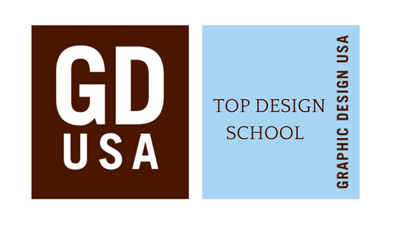 Here you will learn about the College of Visual Arts and Design programs that leads to a Bachelor of Fine Arts degree in Communication Design and the curriculum that is a three-and-a-half-year sequence of studio coursework. The College of Visual Arts and Design at UNT is designated as a 2022 Top Design School by Graphic Design U.S.A.
Communication Design Entry-Portfolio Review Information
The following Entry-Portfolio Review Information is available to pre-majors who wish to apply for the Graphic Design or the User-Experience Design track in Communication Design. Prerequisites: To submit an entry portfolio for review, you are required to have completed, with a grade of 'C' or better, or be currently enrolled in at least two of the courses that comprise the CVAD art core program – ART 1600, ART 1700, Art 1800 and Art 1900, or their accepted equivalents from other institutions of higher education.
Two Tracks
The undergraduate Communication Design program is part of the Design Department in the College of Visual Arts and Design at the University of North Texas. Our program produces effective conceptual thinkers and creative problem-solvers in the following two areas.
1) Graphic Design and
2) User-Experience Design
Students who intend to pursue an undergraduate degree in Communication Design will be classified first as a Pre-Major for the Communication Design program when admitted to UNT.
In the graphic design coursework, students begin by learning to use the basic principles of design and design thinking, and progress to learn image making, color theory and typography as they create a wide variety of visual communications.
Students who complete the graphic design track will gain the ability to
Generate original, creative messages and ideas
Develop a professional portfolio to submit to potential employers
Students, you will
Gain a solid foundation in critical thinking, teamwork, technology and craft

Be able to identify problems and develop innovative, creative solutions for businesses, communities and culture
Obtain the preparation for careers on the global stage or in local markets
At CVAD, we change lives so you can change the world.
In the user-experience design coursework, students will learn how to account for the wants and needs of potential users and audiences as they design new ways to make a broad range of technologies easier for people to use. It's important to understand that user-experience designers do more than mere design and implement digital interfaces. Students who complete the user-experience design will be well prepared to
Embark on creative careers that allow them to create,
Implement and sustain effective and
Valuable products, services and systems.
The B.F.A. in Communication Design develops designers that are conceptual thinkers, creative problem solvers and socially responsible citizens. Our graduates are regularly recognized in national and international design competitions and have a high placement rate at top design, interactive and advertising firms throughout the country.
The Communication Design curriculum introduces students to the principles of design, image-making, color theory, typography and research; giving direct experience with traditional applications, such as logos and branding, publications, packaging, and advertising, as well as digital applications, such as mobile applications, websites and product interfaces. Students are prepared for professional practice through studio courses and professional internships.
Pre-Major and Major Status
An entering student interested in an undergraduate degree in Communication Design is classified first as a Pre-Major for the Communication Design program when admitted to UNT. To be admitted to the communication design major and to be eligible to enroll in advanced art courses, a pre-major student must meet all of the following requirements.
Pre-majors must have completed a minimum of 30 hours of college courses with a grade of C or better and
ART 1600 - Foundations: Perception and Translation
ART 1700 - Foundations: Space (Physical, Temporal and Virtual)
ART 1800 - Foundations: Narrative and Representation
ART 1900 - Foundations: Systems and Transformations
ADES 1500 - Introduction to Communication Design
Specific additional requirements for each concentration are as follows:
Graphic Design
ADES 1510 - Typography I
ADES 1540 - Foundations for Communication Design
ADES 2515 - Image-Making and Color Theory
User-Experience Design
ADES 1513 - Contextual Research Methods
ADES 1543 - Foundations of User-Centered Design
ADES 2513 - Typographic Systems
GPA requirements
Have at least a 2.75 GPA on required art courses.
Have a minimum of 2.25 UNT grade point average.
Portfolio Reviews
Entry Portfolio Review:
After completing ADES 1500, students submit a portfolio into the Communication Design Entry Portfolio Review — conducted each fall toward the end of the semesters.
Be selected to begin your concentration path of choice for Freshman and Sophomore design classes.
Sophomore Portfolio Review
After completing ADES 1510, ADES 1540 and ADES 2515 students submit a portfolio and pass the specific concentration sophomore review.
Only after successfully meeting these requirements, a degree plan will be processed to convert the student's status from pre-major to Communication Design major.
Application Process and Program Information
Once you have applied for admission to the university, you may apply for either or both of the Communication Design programs, but you will be selected into only a single program.
Application instructions and required worksheets
Suggested Undergraduate Curriculum for Communication Design — available in the Quick Links on this page
Computer and Software Requirements
Graphic Design Track Instructions
Graphic Design Worksheets
User-Experience Design Track Instructions
User-Experience Design Worksheets
Please read the Graphic Design Track Instructions and the User-Experience Design Track Instructions carefully.
New due dates will be posted upon availability.
Portfolio Reviews
Students submit a portfolio to the Entry Portfolio Review — occurring each December — in order to gain acceptance into the Communication Design program. The Entry Portfolio Review is highly competitive with an acceptance rate of about 50 percent.
The sophomore year introduces basic skillsets for communication design such as typography, color theory, image-making, design thinking, software proficiency, and creative methodologies for problem-solving. At the end of the sophomore sequence, each student must participate in the Sophomore Portfolio Review. This review is used to select those students who have demonstrated an appropriate degree of proficiency necessary to continue in the program.
---
The junior year offers a variety of classes featuring different design experiences in graphic design; art direction; publication design, such as magazines and annual reports; interactive design, such as motion graphics design and web/interface design; as well as a menu of other specialized course offerings.
The senior year is an intense set of classes dedicated to helping the student hone conceptual and design skills, and preparing a competitive, final portfolio. Additionally, students are encouraged to take advantage of an internship course for the experience.
At the end of the undergraduate program, our students should be able to successfully identify problems; develop strong, appropriate, conceptual strategies for specific target audiences; and implement, design and produce those concepts in a manner that effectively communicates to an intended audience.
THECB Marketable Skills
Marketable skills include interpersonal, cognitive, and applied skill areas, are valued by employers, and are primary or complementary to a major. The marketable skills goal was designed to help students articulate their skills to employers. In accordance with the Texas Higher Education Coordinating Board requirements, UNT has identified the marketable skills for all of its degree programs.
B.F.A. Communication Design Skills
Design principle implementation
Critical thinking
Design process facilitation
Technology/software implementation
Contact Information
Future undergraduate students: Apply to UNT; you will meet with an advisor during your orientation. You also may fill out a CVAD Future Student information form, or send an email to us at CVAD@unt.edu.
Currently enrolled undergraduate students: Contact the CVAD advisor listed for the first letter of your last name on the CVAD Advising webpage.
Department of Design: 940-565-3621, design@unt.edu, Art Building, Room 230.