October 2019 — UNT celebrated the grand opening of its new $70 million College of Visual Arts and Design building — one of the most technologically-advanced art facilities in the world. Visit the full Art Building Photo Gallery on the CVAD News and Views website.
The expanded and renovated four-story art building provides a world-class space for the college's unique resources and award-winning programs in art education, art history, design and studio arts under the leadership of Dean Greg Watts. The celebratory event included a ribbon-cutting ceremony, exhibition and open house.
Technological advancements
The cutting-edge facility offers students access to and instruction in the latest digital fabrication tools, 3D scanners, 3D printers, computer numerical control routers, laser cutters and engravers, plasma cutters and waterjet cutters.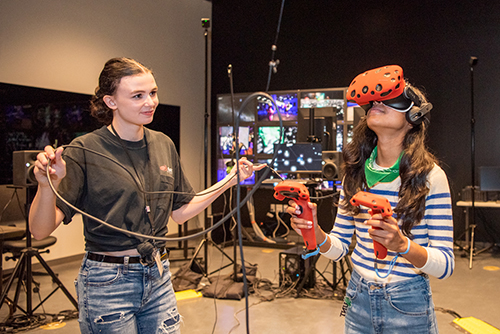 Corgan, a global architecture and design firm based in Dallas, led the design team in association with Boston-based Machado-Silvetti. The Dallas office of AECOM Hunt was responsible for construction.
The 238,000 square-foot building's open concept inspires creativity and encourages people to stay, sit and collaborate. Sky bridges and wide hallways offer plenty of light and space for pop-up exhibitions. Floor to ceiling windows bring the outdoors inside and reveal the creative work happening in classrooms.
"We've worked to design a building that functions around creativity and collaboration," said Greg Watts, dean of the College of Visual Arts and Design. "We wanted a very porous structure that would encourage everyone from our UNT and Denton communities, and beyond, to be curious. And, in turn, have the opportunity to see what we do – to witness our practice."
Windows onto the world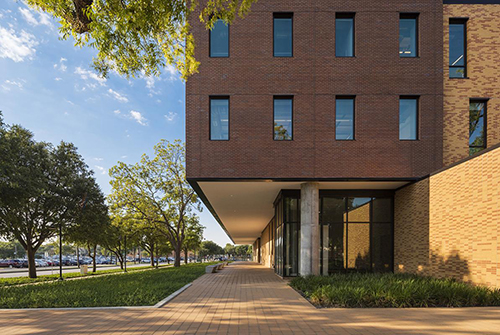 A sweeping front porch on the building's east side serves as a gateway to the UNT and Denton communities, an open invitation to come and experience the college's world-class facilities. The UNT CVAD Art Gallery's expansive windows face streets and sidewalks revealing the works of renowned and emerging artists, while the central courtyard offers a place to enjoy a wide range of events from outdoor fashion shows to film screenings and student work installations.
"We've worked with our architects to design a building that functions around creativity and collaboration," Watts said. "There is an intentionality to the transparency, the wide corridors and the furniture that invites people to stay awhile, to experience what is being created and to discuss ideas — their application and their purpose to art and design."
The new building gives UNT an opportunity to celebrate its past while looking to the successes of the future, said David Wolf, vice president for university advancement.
"While this new facility provides a wealth of opportunity for current and future generations of students, it also pays homage to the community that has been such an integral part of creating and growing the College of Visual Arts and Design," Wolf said. "We are celebrating all that is wonderful and new, and also honoring the past deans, faculty, alumni and others who have left a lasting legacy in the College of Visual Arts and Design in creating the beautiful, caring, creative landscape we see today."
Celebration events
Three events surrounded the grand opening. A ribbon-cutting and VIP grand opening was Oct. 10 with a reception and guided tours that included art demonstrations and opportunities to explore the new building, fabrication lab, new media cave and the Texas Fashion Collection. Student, faculty and professional art was exhibited and some works were offered for purchase.
On Oct. 11, the Fall 2019 Full Circle event was hosted, culminating the creative practice, research and innovation of more than 140 UNT senior B.F.A. students from the Department of Studio Art. The evening featured works that explore installation, painting, drawing, printmaking, performance, photography, metals and jewelry, new media art, sculpture, fibers and hybrids of every sort.
Finally, on Oct. 12, the College of Visual Arts and Design hosted its fall preview and open house, an event for prospective students and alumni. The open house included self-guided building tours, interactive student exhibitions, faculty and professional work, opportunities to meet current faculty and students and T-shirt printing with alumni-led Pan Ector Industries. Student art organizations offered original art pieces for purchase and the day's events included alumni reunions and a presentation by the college's founding dean, D. Jack Davis.
Three art galleries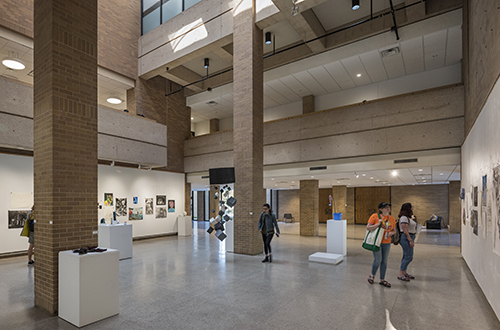 The building's three original galleries return with new features and improvements. The UNT CVAD Art Gallery presents curatorial and installation projects by nationally and internationally accomplished artists.
Formerly the Lightwell Gallery, the new Paul Voertman Gallery is a student-run gallery located on the first-floor atrium of the UNT Art Building. The Paul Voertman Gallery hosts weekly rotating exhibitions of student works and is known for hosting both impromptu and formal performances, critiques and discussions. The gallery is named for the late Paul Voertman, a life-long arts patron and Denton business owner, whose belief in arts education and in UNT has made a lasting impact.
The Cora Stafford Gallery features two spaces, showcasing M.F.A. thesis solo exhibitions, the annual Faculty Exhibition, and the annual Voertman Student Juried Exhibition. The gallery is named after Cora Stafford, an imaginative and enlightened leader who served as a faculty member and art department director from 1921 to 1965.
Art at UNT
Undergraduate programs in art have been part of the UNT curriculum since 1894. Master's degrees were initiated in the 1930s with the first M.S. degree in art awarded in 1937, and UNT's Department of Art became its own school, the School of Visual Arts, in 1992. The College of Visual Arts and Design was created in 2007.
Today the college has 2,215 students enrolled, up 4 percent from last year. It offers 29 degree-granting programs including the only Ph.D. in art education in Texas.
The college graduates more artists than any other institution and is one of the largest producers of university-certified art educators in Texas.