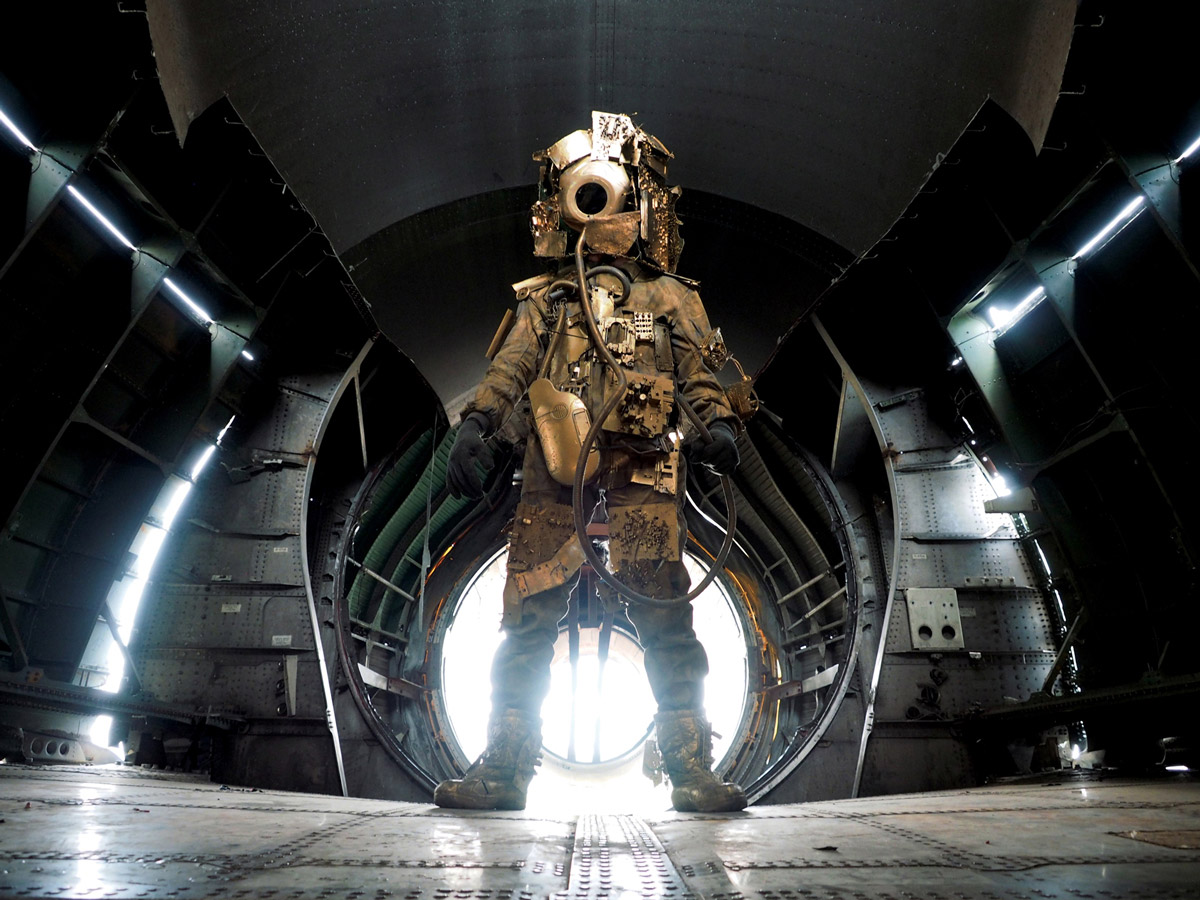 Detail of "Reality Show's Tail," 2019 Series: After Schengen, Fine Art Baryta paper, 112cm x 150cm / 44" x 59" Edition: 3 + 2 AP, 44.8cm x 60cm / 17 ½" x 23 ½" Edition: 5 + 2 AP. Critique by Professor Matthew Bourbon in "Glasstire," Aug. 26, 2022.
Past, present and future collide in Kongo Astronauts' first-ever solo exhibition in the CVAD Gallery
This summer, the College of Visual Arts and Design Galleries presents the first-ever solo show of Kongo Astronauts, an artist collective based in Kinshasa, the capital city of the Democratic Republic of the Congo.
The exhibition, titled "Congo Gravitational Waves // A Metadigital & Tantalean Tale," will be open from June 14 through Sept. 3 in the CVAD Gallery, UNT Art Building. The selected works highlight what the artists describe as "inter-zones of digital globalization, where past, present and future collide with the politics of privacy and the realities of urban and rural life."
"It's an incredible opportunity to have the Kongo Astronauts' only solo exhibition happen right here at UNT. The oft-stereotyped continent of Africa is physically far from Denton, Texas, and yet intertwined in our humanity, inequity, and fragility," said CVAD Dean Karen Hutzel, professor of art education. "This work challenges stereotypes while bringing attention to our commonalities, such as the impact of technological advancements and climate change. I hope all will find their own interpretations in the exhibit while perhaps coming to understand the reflection of this work as inherently African."
Founded in 2013 by Michel Ekeba and Eléonore Hellio, Kongo Astronauts works across disciplines, media, political borders, restrictive artistic and cultural boundaries, and temporal thresholds to reimagine shared futures and elicit thoughts of refusal and renewal. The artists' performative responses to the postcolonial environment in the Democratic Republic of the Congo have resulted in work that can be difficult to categorize. Kongo Astronauts' creative forms are often ephemeral or unstable, and this absence of fixed physical objects is integral to many projects carried out by the artist collective.
"Kongo Astronauts gives life to new visual elements and linguistic concepts that are fantastical in their presentation while remaining grounded in the reality of life in Kinshasa," said Rachel Kabukala, guest curator and art historian.
The exhibition features a short film, a series of large-scale photographic prints and one of the spacesuits Ekeba wears when performing in the streets of Kinshasa and beyond. The "After Schengen" photographic series dominates the gallery's footprint and depicts a spacewalker in a golden suit plastered with electronic circuits and other digital debris aboard an inoperable jet. The series title evokes the Schengen Treaty of 1985, which led to the establishment of unrestricted cross-national movement of European Union citizens within its borders and served to complicate further international travel for citizens of the Democratic Republic of the Congo and other African nations.
Although Kongo Astronauts has staged performances and appeared in group shows around the globe, "Congo Gravitational Waves // A Metadigital & Tantalean Tale" offers audiences in North Texas the unique opportunity to experience its work within the context of an expansive solo exhibition.
Exhibition
June 14–Sept. 3, 2022
CVAD Gallery, UNT Art Building, Room 160
1201 W. Mulberry St., Denton
Gallery Hours: Noon to 5 p.m., Tuesday–Saturday
Free, open to the public