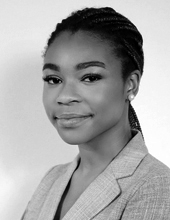 Bria Maiden
Marketing Coordinator
Office of the Dean
940-369-5248
Bria.Maiden@unt.edu
Art Building, Room 270D
Bria Maiden completed her studies at North Carolina A&T State University, Greensboro, N.C., in 2023, where she achieved a B.S. degree in mass communication and journalism, specializing in mass media production. Throughout her college journey, she dedicated much of her time to serving as the multimedia director for the university's newspaper. Additionally, she embraced the role of a radio personality for her campus and the local radio station.

Maiden's enduring passion for art and community has been evident. She gravitates toward activities that bridge the gap between these realms. Her involvement extended into the community as she tirelessly championed artistic opportunities for underprivileged areas. She generously provided free dance classes to children within those neighborhoods, fostering creative expression. As a leadership and civic engagement office board student leader, she propelled college students toward deeper engagement with their local surroundings.

With a remarkable track record, Bria partnered with prominent entities, such as Warner Music, as a marketing representative. Her efforts involved collaborating with nationally acclaimed music artists, conducting interviews, and leveraging her marketing skills to enhance their audience engagement.

Presently, Maiden is the marketing coordinator at the UNT College of Visual Art and Design. If you run into her in the Art Building, offer a friendly smile — you might find yourself featured on the website, in the news, or across CVAD's social media platforms.